Ellen Schepens uitte in 2012 bij de cursus 'Verover de wereld in 80 dagen' op de Hogeschool Utrecht haar droom. Een ambulancenetwerk in Kenia. Het idee werd samen met Consolata Murrhiti versimpeld tot iets waar daadwerkelijk binnen 80 dagen gestart kon worden; EHBO lessen.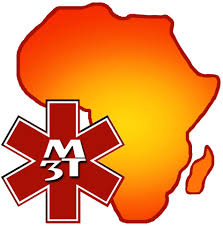 Ellen Schepens vocalised her dream in at the 2012 course 'Conquer the world in 80 days' at the University of Applied Science Utrecht; an ambulancenetwork in Kenya. Together with Consolata Murrhiti the idea was developed into something that could be done within the 80 days: First Aid workshops.
At the end of the 80 days they managed to provide a First Aid course in Kenya.
That is why the project applied for the 2012 Albert Schweitzer Price. With the 5000 euro price a foundation was erected.
Medical3T provides first aid classes to enlarge the basic medical skills in Kenya. Because a doctor or a hospital are sometimes very far away we bring the medical knowlegde to the people. First aid can play a crucial role in the improvement of the healthcare of Kenyans. In december 2019 we visited several hospitals and clinics. Personel told us that they see a lot of people that had an accident or had gotten sick many kilometers away. Most of the time they were put in a car or on the back of a motorcycle and droven to the hospital. Not only hadn't they been treated, the wounds were often way worse when arriving to the hospital due to the trip. Hospital personel sees children with burns that haven't been cooled, broken limbs that have not been splinted and feverish diseases that have been going on for too many days.


With the provision of first aid classes Medical3T makes the difference. With good skills, wounded can be treated quickly and a good transport plan can be made. In a while Medical3T hopes to contribute to this transport by means of our own ambulance. Hospitals will see their patients come in in much better circumstances. This enlarges the chances of survival and good recovery. Apart from the first aid classes we also train the health care workers in the hospital so they can provide better care for the (trauma) patiënts. With this approach Medical3T is part of the community and tackles the problem from several sides.
Medical3T levert met EHBOlessen een bijdrage aan de medische basiskennis in Kenia. Omdat een dokter of ziekenhuis vaak ver weg is brengen wij de medische kennis naar de mensen. EHBO kan een cruciale rol spelen bij de verbetering van de gezondheid van mensen in Kenia. In december 2019 hebben wij verschillende ziekenhuizen en klinieken bezocht. Zij geven allen aan dat ze vaak patiënten zien die vele kilometers verderop een ongeluk hebben gehad of ziek zijn geworden. Men heeft vaak geen eerste hulp verleend maar heeft de patiënt direct in een auto of achterop een motor gezet en is naar het ziekenhuis gereden. Niet alleen is er dus geen eerste hulp verleend, de verwondingen zijn vaak ernstiger geworden door de reis. Zo ziet men bijvoorbeeld kinderen met brandwonden waarbij nog niet gekoeld is, gebroken ledematen die niet zijn gespalkt en koortsende zieken die dagen eerder hadden moeten komen.
Aan het eind van de 80 dagen was het gelukt om EHBOlessen te organiseren in Kenia. Daarom deed het project mee met de Albert Schweitzer Prijs 2012. Met de prijs van 5000 euro werd een begin gemaakt met de stichting.
Met het aanbieden van EHBO-lessen maakt Medical3T het verschil. Door gedegen kennis kunnen gewonden opgevangen worden en kan een plan tot vervoer gemaakt worden. Op termijn hoopt Medical3T ook aan dit vervoer bij te dragen door eigen ambulances te laten rijden. De ziekenhuizen krijgen op deze manier patiënten te verwerken die in een minder slechte staat verkeren. Waardoor de kans op overleving en restloos revalideren vergroot wordt. Naast de EHBO-lessen geven wij ook training aan het ziekenhuispersoneel zodat hun trauma-opvang van een hogere kwaliteit wordt. Met deze brede aanpak staat Medical3T middenin de community en vliegt zij het probleem van meerdere kanten aan.